Sauces
"WOODY'S"® Cook-n' Sauce was introduced to the world in 1946 when Woody Morse produced his first jar of sauce. Since then the loyal "WOODY'S"® faithful have been rewarded with a rich hickory sauce that cooks in and through the meat without burning like some of its competitors.
To complement "WOODY'S"® Cook-in' Sauce we also have "WOODY'S"® Sweet 'n Smoky and Bold 'n Spicy sauces. Its unique sweet and smoky flavor comes from combining hickory flavor with real pineapple juice. "WOODY'S"® Sweet 'n Smoky sauce will add that special flair to your cooking!
"WOODY'S"® unique flavor of sauces are perfect for steak, brisket, chicken, ribs, hamburgers, pork chops, roast, turkey, chili, casseroles, baked beans, meatloaf, fajitas, ham, shrimp…….even fish!  Great for any cooking occasion outdoors on the barbeque or indoors in the kitchen!
"WOODY'S"® is the preferred BBQ, marinade and dipping sauce!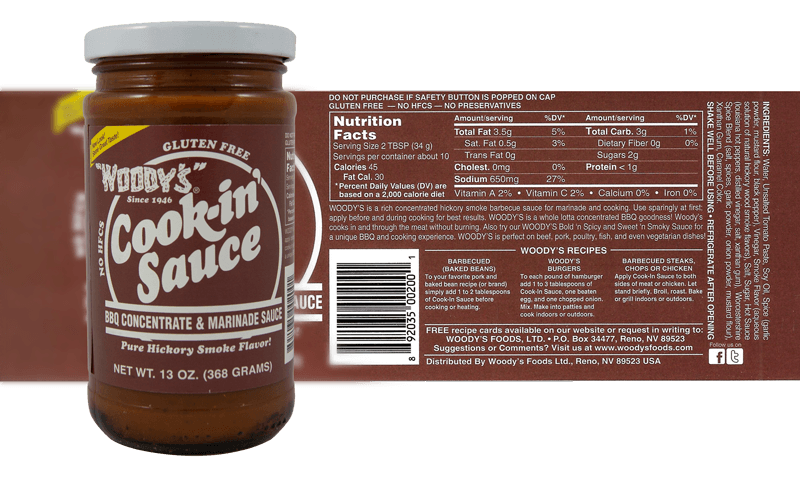 "WOODY'S"® Cook-in' Sauce
More flavorful than traditional marinades
– Rich, hearty hickory flavor
– Pure spices in every jar
Versatile
– Concentrated
– use direct or create your own sauce
Will not char when cooked
– Flavor cooks into, not just onto the meat
– Oil and vinegar marinates meat
– No MSG
"WOODY'S"® Sweet 'n Smoky Sauce
Unique sweet and smoky flavor
– Combines hickory flavor with real pineapple juice
– Sweet and smoky sauce is blended especially for barbecue
– Alternative to traditional barbecue sauces
Versatile
– Sauce is thicker and coats better
– Delicious hot or cold
– Makes a rich cooking or tangy dipping sauce
– No MSG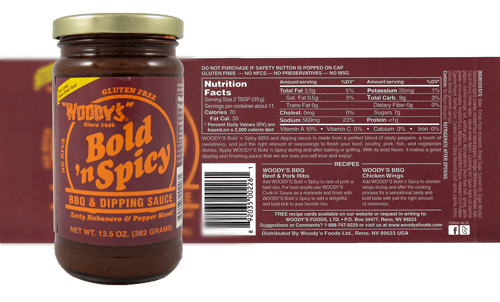 "WOODY'S"® Bold 'n Spicy Finishing Sauce
Genuine hickory smoke flavor
– With zesty peppers
– A touch of pure brown sugar
– Unique taste of the west
A Bold and Spicy sauce, there is nothing else like it!
– No HFCS or MSG
– No preservatives
– No cholesterol
– Gluten free
– A great low-sugar alternative
– Just a bottle bursting with Bold, unique flavor