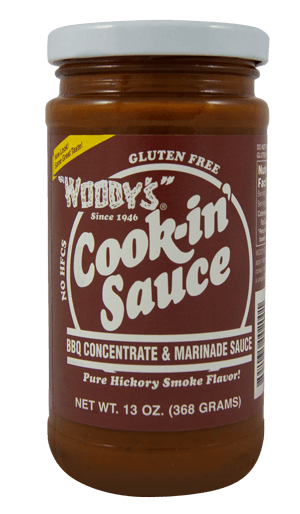 Original Favorite
It's back to basics with our premier Cook-in' Sauce.  Woody's Cook-in Sauce is a unique BBQ concentrate & marinade that will knock your socks off. Great on beef, chicken, pork and fish.
Only 2 grams of sugar
No high fructose corn syrup
No preservatives
Gluten free
No MSG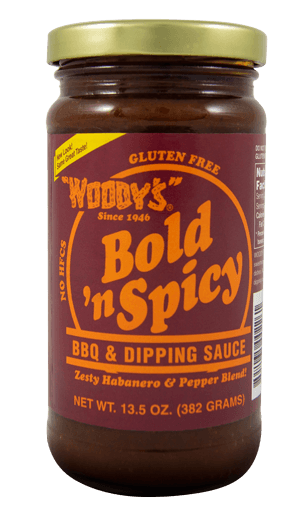 Sauce With a Kick
What could be better than the original? A blend of zesty peppers, a touch of sweetness and just the right amount of spices. We have outdone ourselves with this one.
Only 7 grams of sugar
No high fructose corn syrup
No preservatives
Gluten free
No MSG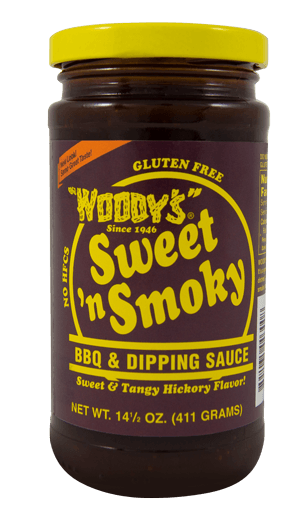 Sweet & Tangy Flavor
This BBQ favorite on ribs and chicken, with a sweet 'n smoky taste and a hint of pure pineapple will have you coming back for more. Enjoy on chicken, pork, fish and more.
Made with Pineapple juice
No high fructose corn syrup
No preservatives
Gluten free
No MSG
Enjoy WOODY'S® gluten free and low sugar sauces.
Woody's Sauces are not your typical catsup and brown sugar BBQ products. A special blend of spices gives Woody's that great hickory flavor BBQ lovers want.
Cook-in Sauce and Bold 'n Spicy are gluten free and have less sugar than most other brands. With just 2 grams of sugar per serving (Cook-in Sauce) and 6 grams (Bold n' Spicy) Woody's will not burn or caramelize when cooking.
Like your ribs on the sweet side?
A BBQ favorite on ribs and chicken. Woody's Sweet'n Smoky has a hint of smoky flavor and a dash of pure pineapple juice to keep you coming back for more.

Enjoy Woody's® brand of sauces any time of the year!
From Colin: "Authentic Hot Links smothered in Sweet & Smoky on a sourdough roll with mustard!"
From Cheryl: "Woody's on beer brats! Quick and yummy!"
From Jim: "Little Smokies smothered in Woody's®, your choice!"
Bold 'n Asian Dip: 1 part EACH smooth peanut butter, pulp free orange juice and Woody's® "Bold 'n Spicy". Mix well, chill and serve with chips wraps or sandwiches. It's different!
Barbecued (Baked Beans) ** Woody's® CLASSIC**: To your favorite pork and baked bean recipe, simply add 1 to 2 tablespoons of Cook-In Sauce before heating.
View current grocers. If you do not see your local grocery store listed contact us and we will send you order information to take with you on your next grocery run.
As always, Woody's® Foods loves to hear from loyal and dedicated customers like you. Contact us with all of your Cook-in needs and don't forget to submit or view your favorite WOODY'S® recipes.
Game Day Food Never Tasted so Good!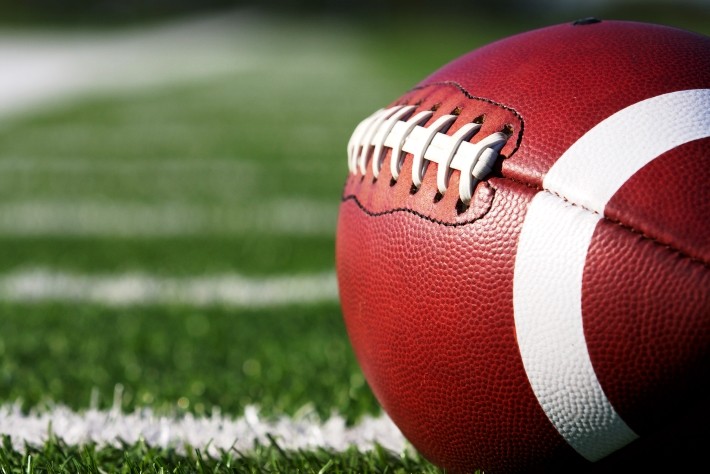 Our Recipes are Yours!
Try these simple and delicious treats for your game day enjoyment!
Crock pot of Flavor: Fill crock pot with individual baby back ribs or chicken wing drumettes. Fill 1/3 with Woody's® Cook-In Sauce and 1/3 with water. Bring to a bubbling, then let the meat cook for about 3 hours on low. The liquid level will rise to cover your meal. Stir occasionally. Serve at half-time or 7th inning stretch, depending on sport.
Variations: Try adding some Worcestershire sauce to the mix. Substitute red wine for some or all of the water. For extra zip, add some "Bold 'n Spicy" sauce while cooking.
Woody's Burgers **Woody's® CLASSIC**: To each pound of hamburger, as 1 to 3 tablespoons of Cook-In Sauce, one beaten egg and one chopped onion. Make into patties and cook indoors or outdoors.
Woody's® Dogs: Split dogs lengthwise. Brush cut part of hot dog with Woody's® and let stand briefly. Grill with the cut side up, then flip and finish with the cut side down.